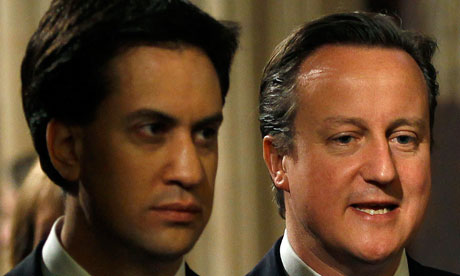 BOTH LEADERS OF THE UK'S MAIN POLITICAL PARTIES ARE SELF CONFESSED ZIONISTS AND ARE AGAINST BOYCOTTS OF THE JEWISH TERRORIST STATE
Ed Miliband: 'I'm a Zionist and oppose boycotts of Israel'
Ed Miliband has pledged to protect Jewish customs including brit milah and shechita if he becomes Prime Minister.
Speaking at a Board of Deputies event the Labour leader said he was opposed to boycotts of Israel and warned of the need to be "ever-vigilant"against antisemitism.
Asked whether he would work to ensure religious slaughter and circumcision practices could continue in Britain, Mr Miliband said: "Yes, these are important traditions. The kosher issue has recently been brought to my attention. Ways of life must be preserved."
He added: "I take antisemitism very seriously. Any kind of delegitimisation of Israel is something we should call out for what it is and not tolerate it.
"I think the boycotts of Israel are totally wrong. We should have no tolerance for boycotts. I would say that to any trade union leaders."
But Mr Miliband warned the audience that while he was opposed to anti-Israel activities in this country, people must "understand the anger and dismay about settlements".
He said that he considered himself a Zionist but was critical of some Israeli government policies. Asked about Labour's support for the Palestinian bid for statehood at the United Nations, Mr Miliband said he wanted to "encourage moderate" Palestinians and work in an "even-handed" way.
The politician made repeated reference to his support for a two-state solution to the Middle East conflict and said he hoped Britain could be an "honest broker" in the peace process.
Mr Miliband said former Labour MP George Galloway's refusal to debate with a British-Israeli student at Oxford University last month was "shameful behaviour".
"I was shocked by that. It's one of a long line of things he has done and that's the sort of behaviour we should not tolerate. The idea that he would refuse to debate him because he was Israeli is totally wrong and disgraceful."
The leader of the opposition answered a range of questions on topics including immigration, education, housing, employment, the Israeli elections and American baseball.
Tory leader calls himself 'Zionist'; U.K. Jews campaign against boycott
http://www.haaretz.com/news/tory-leader-calls-himself-zionist-u-k-jews-campaign-against-boycott-1.223009
The leader of Britain's Conservative party, David Cameron, called himself a "Zionist" Tuesday as he slammed a British initiative for an academic boycott against Israel.

Cameron, responding to questions at the annual luncheon of Conservative Friends of Israel, said the academic boycott was completely uncalled for, and that attacks against Israel often slid into anti-Semitism.

"If by Zionist you mean that the Jews have the right to a homeland in Israel and the right to a country then I am a Zionist," the Tory leader said, adding that support for Israel is "in the DNA" of members of his party.

He also justified construction of the separation fence, but expressed concern that it might torpedo a two-state solution.

British Jews launch campaign against academic boycott

A coalition of British Jewish organizations will launch a campaign Thursday to combat the University and College Union's initiative for an academic boycott of Israel.

Advertisements signed by hundreds of anti-boycott academics were scheduled to appear in Wednesday's newspapers, followed Thursday by a press conference by Jewish politicians, university lecturers and community leaders.

Jeremy Newmark, director of the Jewish Leadership Council, told Haaretz that the campaign's goal was to get British University and College Union director Sally Hunt to make good on her pledge to bring the boycott proposal to a referendum of the union's rank and file.
River to Sea
Uprooted Palestinian

The views expressed in this article are the sole responsibility of the author and do not necessarily reflect those of this Blog!